Dear Anne and Mark:

Lynda and I have returned home after a great time in Whistler. We had a great vacation! Thanks much for the rental of your condo. It lived up to expectations. We liked the layout and especially liked the private forest view and the hot tub(s). We have visited Whistler 3-4 times per year for the past 10 years and so will definitely keep you in mind for future rentals.

Thanks, too, for letting us leave things in the condo when we went to Alberta Sun-Tuesday. It made it much more enjoyable to travel light. We fit a lot into our vacation: Lost Lake hiking, peak adventure including the new 8.5 mile High Note trail, hiking the Black Tusk (14 miles) all but the last bit, Columbia Ice Fields and glacier walks and mountain biking in the park. Not to mention several new restaurants. A great vacation.

Thanks again for the rental. We'll be back in touch for Winter.

-- Paul & Lynda M., Richboro, PA USA August 2006
Hello Mark & Anne,

I just wanted to tell you what a fantastic time we all had at the Aspens. The property is great and we will definitely book again with you when next we make it out to Whistler. I intend to tell all my friends about your suite... and have already told my sister Dionne (who lives in Vancouver) about it and she will likely call you about August availability.

Thank you so very much.

Warmest Regards,

-- Gabriel P, Toronto ON July 2006
Mark & Anne,

Hello this is Shonda ***** and we stayed in one of your condo's March 7-12. I have been meaning to write to tell you what a great time we had and we loved your place.

It was perfect for my husband, son and I. It is a GREAT location, we were so spoiled by it. The weather was pretty good, we got a lot of snow. Your condo was really nice and we really enjoyed our stay. If you need a references for future renters, please let me know and I would be happy to provide one.

We will go back to Whistler some day and we will be sure to look you up again when we do. I also use the website ***** a lot when I am researching my travel. I will be sure to list your site for potential
renters coming to Whistler. Take care,

-- Shonda, USA March 2006
Hi Anne

My name is Kristy, and I was part of the ******* party that stayed in your unit *** last weekend. I just wanted to send you a note to thank you for letting us stay in your Whistler home at the Aspens. The location was great, and your place was spacious enough for all four of us ladies to hang out comfortably.

The snow was perfect and I couldn't of asked for a better weekend, especially since we were so last minute about everything. Thanks again.

-- Kristy, Seattle WA March 2006
We have been home now for a week, and I have ploughed my way through mounds of washing and heaps of correspondence. Now I'd like to take time out to say thank-you to you ... for sharing your lovely home in Whistler with us. When we arrived, it was so beautifully presented...you really do have a fantastic cleaner!

We had a very special holiday in Whistler, and staying in a block that was familiar to us and it in a unit that was so lovely made it all the more so.

Please can we come again?!

I don't know what our plans will be for next year, but can I provisionally book your suite for 10 days commencing ... {snip}

-- Glynis F., United Kingdom, April 2006
Great apartments, Very helpful, hospitable hosts. Thank you Anne for all the help.

-- Paul & PT C., Hong Kong
Loved the beautiful scenery from here; very relaxing. Thanks to Anne & Mark.

-- Andre, Nathalie, Arianne and Adam. Langley BC
This is a wonderful place and I think your choice of color is really nice for people to relax into. Thanks a lot.

-- Kalya + Brad, Burnaby BC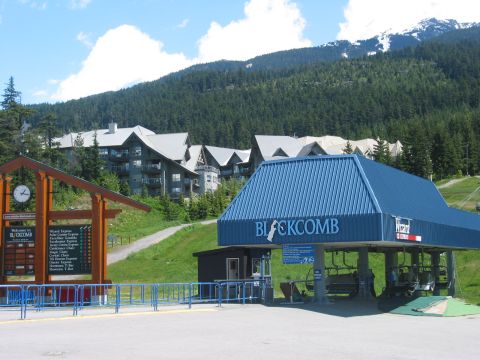 The Aspens is shown in the background of this summer view of the Wizard Express
quad chairlift on Blackcomb.
Thank you! Its been rejuvenating and peaceful. I am healthier for it.

-- Brenda K., Mission, BC
It was so much fun up here! I definitely wanna come back! The room is cute and there is a lot to do! Whistler rocks!

-- Much love, Kathryn, Andrew, Janet and Ed J., Seattle WA
2003: happy New Year Everybody!! Hi Anne and Mark: You have an absolutely beautiful home here in Whistler-Blackcomb. Thank you for sharing it with my family and I. we will be back! take care, all the best.

-- Joan, Billy and Eira G., Ontario
Another birthday in Whistler. Wonderful. Hope to be back next year. great apartment. Thanks.

-- Ross & sally W. Stratford upon Avon, U.K.
Very nice apartment and well located. We would like to come back in 2 years.

-- Paul and Lynn H., Ontario
Love the condo! Great location, wonderful chair! I love this chair, it's the greatest! The cat on the mantle cracks me up! what a tail!

-- The L. Family, Yelm WA
My husband and I have stayed all over the world in different condos & we have found yours the nicest coziest of them all. Thanks for sharing your place with us. we will definitely be back! Thanks again.

-- Jessie and Wal D., Hamilton ON
Anne/Mark: Thanks for the good times. I will never forget these days.

-- Lyndsay, Paul & Nathalie, Vancouver BC
Anne and mark. Thanks a million for letting us stay at your flat. We love it here and had a great time. Hopefully we can return to enjoy the fireplace in the winter. Anne, the Tv is cool, surround sound eh!

-- Aza & Lisa, Vancouver BC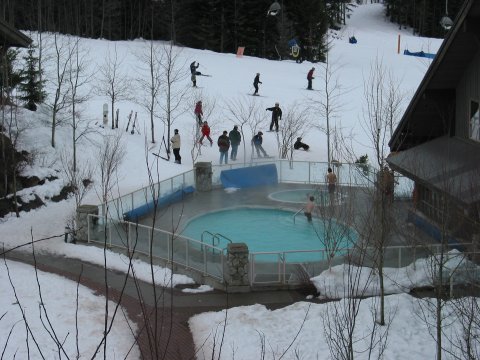 True ski-in ski-out accommodations at The Aspens!
Many thanks to Anne and Mark for this most enjoyable and interesting stay at The Aspens, so very comfortable and nicely decorated.

-- Monique R., Versailles, France
Nous apprecions beaucoup le calme, le confort, l'elegante decoration de cet appartement. Thank you, Thank you, Thank you.

-- Rolly and Bernard, Paris France.
Thank you Anne and mark for letting us have your suite 2 The Aspens. Shame we couldn't stay longer, but now that I can ski, I am tempted to come up more often. watch out!

-- Philip and Peter, Vancouver BC
Your suite is wonderful. Thank you for allowing us to rent it.

-- Leanne and Bruce, Waterloo, ON
I have been coming to Whistler since 1972, when the main lift was a slow green gondola out of Whistler Creek, No Village. No Blackcomb. I've stayed in accommodations from the Youth Hostel in my student days (we washed our own dishes) to the Chateau Whistler (someone else washed the dishes). This is the best place. The location is superb, the furniture is comfortable and it looks great!

-- Unsigned (and didn't have to wash her/his dishes here either)
Anne, your condo rocks. Thank you for letting us stay here. We'll be back often.

-- Bruce and Tina, Seattle WA
We would definitely stay here again, loved the location. Your condo is wonderful, one of the nicest we have stayed. We will email you a great picture from your balcony. Thanks, we will see you again.

-- Jill, Lloyd, Meg, Nova Scotia
We have been here 3 times now + love it more each time. We have stayed at ****** Lodge, the ******** and The Aspens. So far, Aspens has our note for best stay due to ease of rental + ski-in ski-out location.

-- The H. Family, Houston TX
Anne + Mark: we really enjoyed our stay. the suite is very comfi – felt just like home! We'd love to come back! Thank you!

-- Debbie and Jim, Vancouver BC
Pleasant condo. Thank you for sharing. Your colour choice is very enjoyable. Photographs are inspiring. Treed view beautiful.

-- Matt and Darleane, Vancouver BC
The suite is great…very quiet. we really appreciated the videos provided, especially Robin Hood: Men in Tights! Ski-In, Ski-out location is great. After the big Christmas snow, the place was truly magical.

-- David, Judy & Jeremy K., Columbia MD
We enjoyed our stay in your very comfortable, nicely decorated + well equipped unit. Very quiet, nice view, friendly staff. Will definitely spread the word to the many, many friends from Hawaii who travel to Whistler.

-- Wayne, Dianne, Blake and Blaine M., Mihlani HI
Anne + Mark: We love your place and we are looking forward to more visits next year.

-- Bruce and Tina, Seattle WA
Dear guest Book, The suite is clean (very important), very comfortable, well equipped and yes, the staff are friendly. This is a very nice escape from our daily grind and it is only a few hours from home.

-- Langley BC
Your suite was great. We had a magnificent time in Whistler and it was one of the many highlights over the month. Our teenagers enjoyed the hot tubs and exercise room while we thoroughly enjoyed the views of the mountains and gondola. Many thanks and we hope for a return visit soon. Whistler itself is something else and I know why people choose to visit.

-- Darryl & Heather C., Brisbane, Australia